Covid-19 Grants Being Used for IAQ HVAC Strategies
10/22/2020 | Michael D. Vinick, ASCS, CVI, President - Duct & Vent Cleaning of America, Inc. Past President - NADCA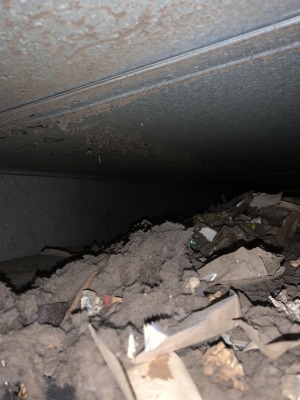 Many municipalities have hired Duct & Vent Cleaning of America, Inc to clean their HVAC System Components and Ductwork with grant money received from the government. Some are cleaning their ductwork for the very first time! I have included a picture of what we found in the ductwork of one school on August 21st of this year that is shocking. If you look closely in this nearly blocked duct line, you will see a pencil in that pile of debris somewhere.
There have been funds set up to help the municipalities manage their budgets as a result of increased expenditures on PPE and other non-budgeted expenses associated with Covid-19. As they "wrap their arms" around the many initiatives that are being juggled with the needs of their communities, they are getting a handle on prioritizing the things that need to be done. One of the most important jobs of each municipality is the safety of their staff and the families they service. Indoor Air Quality (IAQ) needs to be at the top of that list to help us return to our "new normal"!
As experts in IAQ for over 31 years, we are fielding so many inquiries as to what can be done to manage the Indoor Air Quality in their schools and municipal buildings. There is no one magic bullet to tackle this challenge. Continued application of common-sense approaches will yield results. Adding increased fresh air exchanges is very important so we are not recirculating the air within the room, lessening the chance of infecting others. Then we must be sure to distribute the fresh air and recirculated air through clean HVAC System components and ductwork. Along with personal human control methods, such as wearing masks, the air flow should be controlled in the occupied spaces with proper balancing. Increased filtration compatible with the system will help, but is not the solution. I also think that UV light may work, but there are still many unanswered questions. Ozone is unsafe at levels needed to accomplish what is desired in occupied spaces plus more questions are still unanswered on if it is even effective against Covid-19. Ionization, which is the distribution of ions by air for effective control of electrostatic charges, is another option that is being looked at a lot more closely than it was back in 1966 when ASHRAE first mentioned it in their publications as a potential treatment to break down harmful VOC's. All this while ensuring surfaces in buildings are maintained and clean. A
virucidal treatment
can also be applied to the surfaces.
All this will of course derive more questions as we move through this great challenge. We will look back in a few years and wonder why it took a pandemic for people to finally identify IAQ as an important issue facing our society.
Duct & Vent Cleaning of America, Inc has been in the air duct cleaning business as a nationally regarded leader in our industry for over 31 years. Please feel free to
call us
if we can help you in any way.
Share this:
---