Michael Vinick, Past NADCA President, Inducted into the NADCA Hall of Fame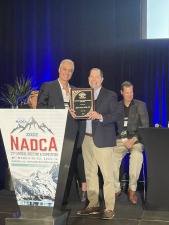 Michael was selected by the NADCA Board of Directors to be inducted to the NADCA Hall of Fame due to his contributions to the Association's growth and development, as well as his contributions to the HVAC industry as a whole. "NADCA's long term success is due to individuals like you who have volunteered considerable time and effort as leaders in the Association and the HVAC industry, " stated Jodi Araujo, NADCA Chief Executive Officer.
---
Duct & Vent Cleaning of America, Inc.
Duct & Vent Cleaning of America, Inc. opened for business in 1989. Our company strives to "Improve Lives Through Duct Cleaning" and understands the health benefits of duct cleaning and importance of clean air so we all can be breathing clean air. Immediately we joined NADCA, The HVAC Inspection, Cleaning and Restoration Association as one of its earliest members. We were the first company to join NADCA that used portable HEPA filtration vacuums in the cleaning process. Today there are many methods to clean ductwork and each job needs to be handled differently to achieve the desired results. Our company meets and exceeds the standards and specifications set forth by NADCA and our industry.
Improving Lives Through Duct Cleaning
Duct & Vent Cleaning of America, Inc. performs both commercial duct cleaning and residential duct cleaning. We primarily work in Virginia, Maryland, New York, Connecticut, Massachusetts, Rhode Island, Vermont, New Hampshire, and Maine. More specific service areas are shown on Google Maps in our websites markets drop down tab. Our company has performed duct cleaning and air conveyance system restoration throughout the United States. We have multiple offices, qualified Territory Account Managers and Field Staff to perform our services for our customers.
Both directly and through our NADCA membership Duct & Vent Cleaning of America, Inc. has helped to promote the duct cleaning industry around the world. Michael Vinick our company President held a board position at NADCA for 12 years and served as the organizations President amongst other executive board positions. The mission of NADCA is to promote industry duct cleaning standards, specifications and certifications. As a member of NADCA we are required to have an Air Systems Cleaning Specialist (ASCS) oversee any work that is performed by our company. NADCA, ACR Standard is the internationally recognized standard for HVAC Cleaning. The standard provides reliable information for assessing new and existing systems, evaluating and verifying cleanliness of HVAC System components, and guiding the cleaning and restoration of HVAC systems to specific levels of cleanliness. The NADCA General Specification for the cleaning of commercial HVAC systems describes the minimum requirements necessary for HVAC cleaning. "That's the NADCA Advantage".
Duct & Vent Cleaning of America, Inc. is proud to have an air duct cleaning client list that includes government agencies, municipalities, state governments, Fortune 500 Companies, small businesses, healthcare facilities, universities and homeowners.
We are considered one of the foremost duct cleaning companies and would be honored to serve you. Please call us at 1-800-442-8368.