Charitable Corporate Culture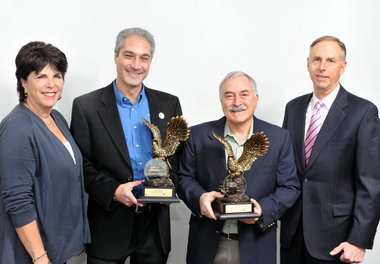 After a long battle with cancer, during the spring of 1982 Jeffrey Marc Vinick at age 18, the brother of Michael D. Vinick, our company managing principal died of cancer. In his memory, Michael has dedicated many of his efforts and resources to support The Jimmy Fund / Dana Farber Cancer Institute where Jeffrey was treated. Michael has pledged that he will not rest until cancer is eradicated, especially from kids. In May of 1999, Michael was awarded the Lifetime Commitment Award from the Jimmy Fund and in November of 2011 he was awarded the Sadowsky Visionary Award. In 2015, Michael was awarded the Bob Cheyne Jimmy Fund volunteer of the year award.
In Jeffrey's memory, a group of local individuals and business leaders has built a golf tournament into the largest tournament in the Jimmy Fund Organization. Over the years we have raised over $11 million dollars. More can be learned about the tournament at www.jfvinickgolf.org.
Other charities that we support include but are not limited to the following:
American Cancer Society
Camp Hill Village
Easter Seals
I.A.H.D. St. Jude's Hospital
Local Little League Organizations
Opportunity House, Inc.
The Shriners Hospital
The Ronald McDonald House Charities
The Forest Park Zoo, Springfield, Massachusetts
The Boy Scouts of America
The Boy's and Girl's Club of America
The Girl Scouts of America
The Jimmy Fund Statue Dedication Made In Memory of Jeffrey M. Vinick
Jeffrey Passed Away in 1982 at the Age of 18 After a Long Fight With Cancer
The Vinick Family Was Honored to Have the Jimmy Fund Accept as a Gift a One of a Kind Commissioned Statue
Conceptualized and Underwritten by Jim Vinick, a Long Time Jimmy Fund Supporter and Financial Advisor (Michael's Father)
Custom Crafted By Sculpture Brian Hanlon Depicting Dr. Sidney Farber and 12 Year Old Einer "Jimmy' Gufstafson
The Statue is on Perminant Display at Jimmy Fund Way in Boston, Directly in Front of the The Jimmy Fund/Dana Farber Cancer Center.
The Ribbon Was Cut and the Statue Was Dedicated October 12, 2013.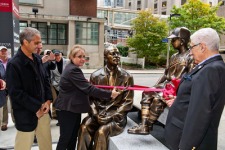 Depicted in Photo from Left to Right is Jeffrey's Family.
Michael Vinick, (Brother) President, Duct & Vent Cleaning of America, Inc.
Beth Vinick-Hayashi (sister), and James Vinick (father)
Once again, the Jimmy Fund of Western Massachusetts
has recognized Michael Vinick for his service. At the 2016 Annual Meeting, Michael was presented with the Bob Cheyne Outstanding Volunteer of the Year Award. Michael was also recognized for his 6 years of service as President of the Western Mass Council. In addition, the golf tournament, in memory of his brother, the Annual Jimmy Fund Golf Tournament/Jeffrey Vinick Memorial surpassed $10 million in cumulative fundraising in 2016. The 2016 tournament managed to raise $350,000 congratulations, Michael! The next Annual Jimmy Fund Golf Tournament will be held on June 12th 2017.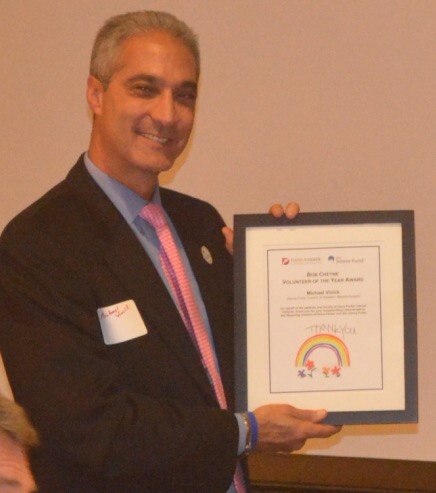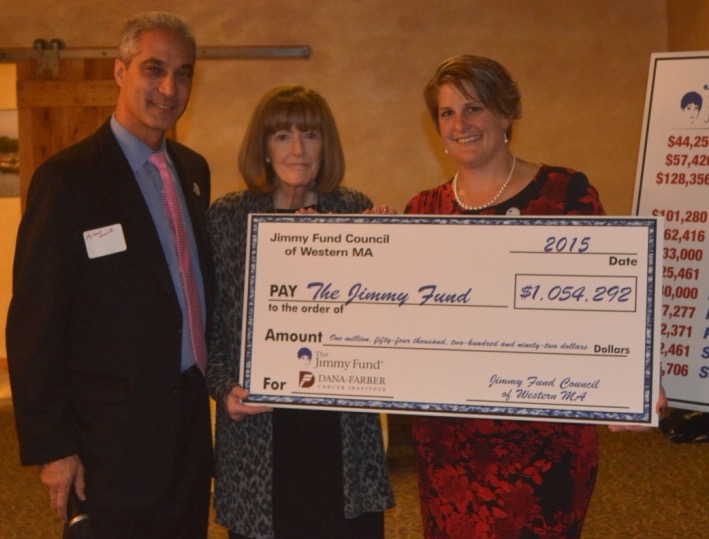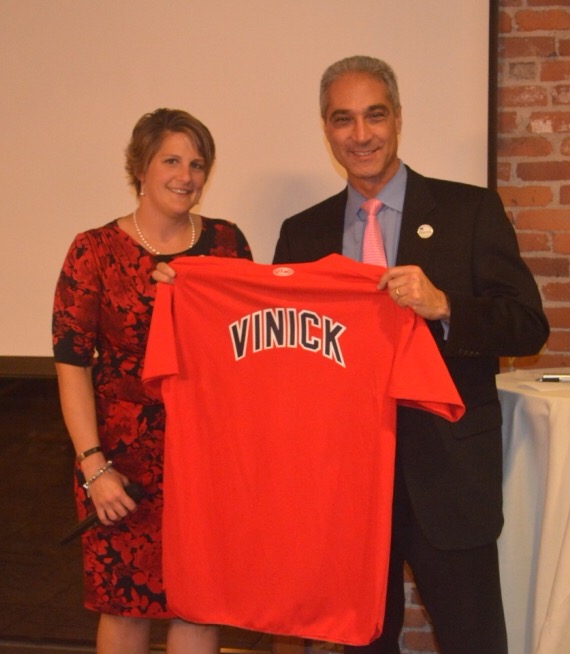 Jimmy Fund Council of Western Massachusetts
honors volunteers Michael Vinick and Marc Packin with Sadowsky Visionary Awards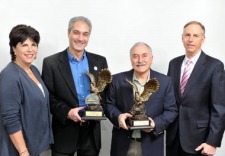 WEST SPRINGFIELD - Michael Vinick, of Suffield, Conn., and Marc Packin, of Longmeadow, each longtime Jimmy Fund supporters and volunteers, recently received the prestigious Sadowsky Visionary Award during the annual meeting of the Jimmy Fund Council of Western Massachusetts.

Vinick began his affiliation with the Jimmy Fund after his brother, Jeffrey, and sister, Beth Hayashi, of Tucson, Ariz., were diagnosed with cancer in 1979. They were treated at the Dana-Farber Cancer Institute in Boston.

At the time, Mike Andrews, former Boston Red Sox second-baseman, and Ken Coleman, former voice of the Red Sox, befriended the Vinick siblings and their mother, Harriet, in their roles as chairmen of the Jimmy Fund.

In 1980 and 1981, Michael and Jeffrey became involved with the Jimmy Fund golf tournament as volunteers. In 1982, after Jeffrey died, the tournament was held in his memory and in 1983 it became the Jimmy Fund-Jeffrey Vinick Memorial Golf Tournament. READ THE WHOLE STORY HERE