Dryer Vent Cleaning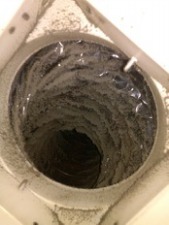 Click - FREE Dryer Vent Cleaning Quote
Commercial Dryer Vents need to be cleaned regularly. Commercial Dryers have a high usage rate and can be a fire hazard if they are not cleaned on a regular basis.
While we are at your facility cleaning your ductwork we can also clean your dryer vent at an affordable price.
Does your dryer overheat?
It is recommended that you have your dryer vent cleaned according to the volume of use and at minimum annually.
Thank you again for allowing
Duct & Vent Cleaning of America, Inc. to be of service to you!

If you have any questions regarding dryer vent cleaning please call us at 1-800-442-8368.
Consumer Product Safety Commission
Topical Fire Report Series Volume 13, Issue 7
Clothes Dryer Fires in Residential Buildings (2008-2010)
According to a 2008-2010 report by the U.S. Consumer Product Safety Commission, an estimated 2,900 clothes dryer fires in residential buildings are reported to U.S. fire departments each year and cause an estimated 5 deaths, 100 injuries, and $35 million in property loss. They report that the leading factor contributing to clothes dryer fires in residential buildings is failure to clean (34%).
To help prevent fires:
Clean the lint screen/filter before or after drying each load of clothes. If clothing is still damp at the end of a typical drying cycle or drying requires longer times than normal, this may be a sign that the lint screen or the exhaust duct is blocked.
Clean the dryer vent and exhaust duct periodically. Check the outside dryer vent while the dryer is operating to make sure exhaust air is escaping. If it is not, the vent or the exhaust duct may be blocked. To remove a blockage in the exhaust path, it may be necessary to disconnect the exhaust duct from the dryer. Remember to reconnect the ducting to the dryer and outside vent before using the dryer again.
Clean behind the dryer, where lint can build up. Have a qualified service person clean the interior of the dryer chassis periodically to minimize the amount of lint accumulation. Keep the area around the dryer clean and free of clutter.

Replace plastic or foil, accordion-type ducting material with rigid or corrugated semi-rigid metal duct. Most manufacturers specify the use of a rigid or corrugated semi-rigid metal duct, which provides maximum airflow. The flexible plastic or foil type duct can more easily trap lint and is more susceptible to kinks or crushing, which can greatly reduce the airflow.
Take special care when drying clothes that have been soiled with volatile chemicals such as gasoline, cooking oils, cleaning agents, or finishing oils and stains. If possible, wash the clothing more than once to minimize the amount of volatile chemicals on the clothes and, preferably, hang the clothes to dry. If using a dryer, use the lowest heat setting and a drying cycle that has a cool-down period at the end of the cycle. To prevent clothes from igniting after drying, do not leave the dried clothes in the dryer or piled in a laundry basket.