Interior Insulation Stripping and Re-Insulating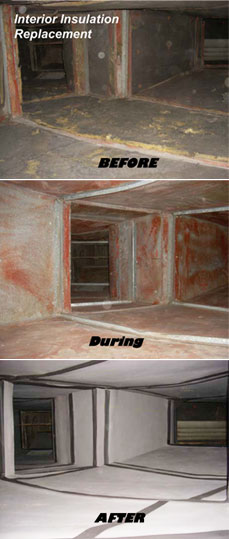 Rip Strip and Re-insulating
Over time, open cell insulation becomes degraded and will break down. The result is that some of the insulation can become airborne within the air ducts and AHU. It then travels to the occupied space and is unhealthy for the inhabitants. It also fails to do the job it was installed to perform.
Our Procedure:
We will start by ripping out the old insulation and prepare the surface by grinding out all the glue and pins that hold down the old insulation. Then we install a new closed cell insulation that will not degrade over time.
Click for FREE Interior Insulation Stripping Quote
Case Story: Waterbury Schools Replace Damaged Open Cell Duct Insulation

It was intended to be a routine duct cleaning - albeit an overdue one. Duct and Vent Cleaning of America, Inc. was commissioned to clean the duct and air handling equipment at five schools in Waterbury, CT, but when much of the original glass duct liner was found to be either wet, moldy, or heavily damaged, a major replacement with AP Armaex Duct Liner was the best option.

Click here to read more.
Learn more about closed cell insulation and the difference it is making in our schools.

Read our recent press release:
Duct & Vent Cleaning of America Works with Armaflex
Call our Air Duct & Vent Cleaning service team today at 1-800-442-8368