DUCT & VENT CLEANING OF AMERICA, INC. CELEBRATES 30 YEAR ANNIVERSARY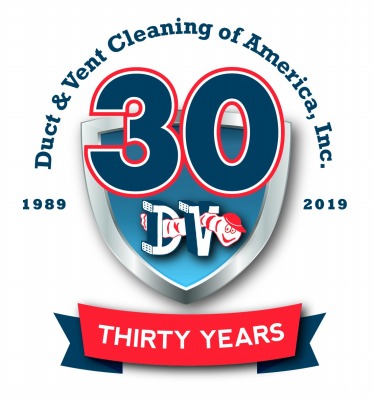 Duct & Vent Cleaning of America, Inc. marks an important milestone in 2019 - its 30 year anniversary. Duct & Vent Cleaning of America, Inc. was founded in April of 1989 to address the emerging need for commercial and residential duct cleaning services.
"I am grateful for the efforts and impact of our dedicated team of salespeople, operations staff and duct cleaners, which are the best in the industry," says President, Michael Vinick. "Without them, we would not see the level of success and professionalism that we do today."
With a lot of hard work and countless hours, President Michael Vinick worked diligently to educate consumers on the importance of the energy saving, health benefits, and maintaining great indoor air quality that result from our services.
"I am so grateful and humbled by the support we have received from the community and beyond since we first started business in 1989," says President, Michael Vinick. "We are looking forward to further serving clients and providing the highest level of service."
Barely a year after Duct & Vent Cleaning of America, Inc. was founded, they joined NADCA, the HVAC Inspection, Cleaning and Restoration Association. They were the first company to be allowed membership that used portable HEPA vacuums in the cleaning process. This milestone was the first by a company to recognize the need for the highest quality work.
As a past NADCA President/Chairman of the Board and having held various board positions for 11 years, Vinick continues to uphold NADCA's mission. During the company's first 30 years of business, many milestones have been achieved. Vinick's devotion to fairness, honesty and a global perspective has allowed the company to grow its reputation. The company has grown in the size of its team, along with the array of clients and area that it serves.
Today, Duct & Vent Cleaning of America, Inc. is proud to have a client list that includes government agencies, municipalities, state governments, Fortune 500 companies, small businesses, health care facilities, universities, colleges and homeowners. Duct & Vent Cleaning of America, Inc. understands how to enhance the overall effectiveness of the duct cleaning service, and they provide added indoor air quality related services specifically related to HVAC inspection, cleaning and restoration. They are proud to provide each of their customers with the guaranteed quality you can expect from 30 years of dedication.
Share this:
---