Fiberlock's Coating Products are a Great Investment for your Duct Work
Clean air helps keep your employees healthy. Healthy employees increases productivity and reduces money lost in sick time.
Maintaining clean air is easily accomplished after a successful duct cleaning. To take your IAQ a step further it is also a wise idea to invest in Fiberlock coating products for your duct work. One such product is Fiberlock 8000 as shown in the below pictures. This dual-purpose, high performance coating minimizes dirt and soil buildup that feeds mold colonies while improving airflow in your duct work.
Additionally, Fiberlock coating products are tested in accordance with the procedures outlined in ASTM G 21 and received a No. 0 rating. These coating products are a wise investment and will help increase safety, decrease cost, and improve productivity.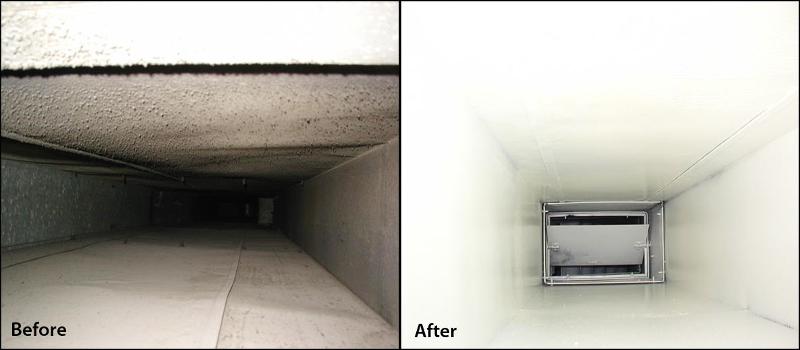 Fiberlock coating products are high in viscosity, and provide maximum bridging ability on insulation materials. They also reduce sagging and dripping when applied to the vertical and top surfaces of an unlined duct. Fiberlock coating products also increase the longevity of your ducts, which decreases long-term expenditures.
Fiberlock coating products contain an EPA-registered active ingredient to deter fungal activity on or in the coating film, and it have been successfully tested to ASTM standard C-411"Hot Surface Performance of a Coating on Glass Fiber Blanket Insulation" the ASTM E-84 Class "I" fire rating, and it meets requirements of NFPA 90A/90B standard.
Contact
Duct & Vent Cleaning of America, Inc.
at 800-442-8368 to learn more about how
Fiberlock
coating products can help improve your
duct work
.
Duct & Vent Clearning of America, Inc.
provides
commercial air duct cleaning and residential air duct cleaning services
to MA, CT, RI, NY, NH, and MD. We proudly serve all cities and towns throughout the Northeast including: Boston, Baltimore, New York, Providence, Hartford, New Haven, Worcester, Springfield, Nashua and more!
Share this:
---