President of Duct & Vent Cleaning of America, Inc., Michael Vinick, Receives National Air Duct Cleaners Association MVP Award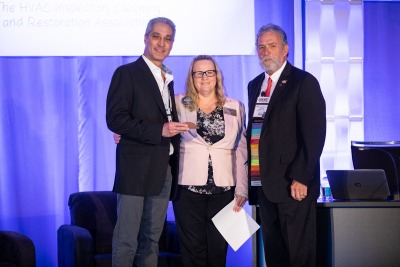 President Michael Vinick was recognized at the 30th Annual National Air Duct Cleaners Association (NADCA) meeting in Nashville as the organization's MVP. This award recognizes an individual whose efforts as a volunteer made a significant contribution to NADCA, as Michael has demonstrated throughout his 30 years with the organization.
NADCA is the global trade association representing the HVAC inspection, cleaning and restoration industry. They support members with standards, education, certification, marketing and advocacy to promote the highest quality and ethical services. The organization was formed in 1989 and Duct & Vent Cleaning of America, Inc. joined in February of 1990 as one of its earliest members.
Michael has been on NADCA's board of directors since 2008. Holding various board positions throughout the years, he has dedicated countless hours to NADCA and has worked diligently to make the organization as beneficial to members and consumers as possible.
His dedication led him to form the membership committee and the finance committee. It is through the membership committee that Michael has been given credit to raise the renewal rate to 95%, a very substantial accomplishment for any organization. Michael is passionate about making sure members have the right tools in place from NADCA to be successful in their businesses. He recognizes that every decision they make in the boardroom directly affects members ability to earn a living for themselves and their families.
Michael has not stopped there. In creating the finance committee, he helped steer NADCA from an organization with no fiscal accountability to one of complete fiscal transparencies. He introduced the concept of investing and NADCA now has a financial adviser and an investment plan.
Michael's dedication and passion for NADCA and leadership as President have grown NADCA into an organization that is not only respected nationally, but globally as well, as stated by his colleague.
Along with Michael's standout work as a NADCA member, Duct & Vent Cleaning of America, Inc. continues to be a leader in the industry. The company has also shown extreme growth in the size of its team, along with the array of clients and areas that it serves.
Share this:
---