What is an Employee Modification Rate (EMR)?
6/24/2020 | Michael D. Vinick, ASCS, CVI, President - Duct & Vent Cleaning of America, Inc. Past President - NADCA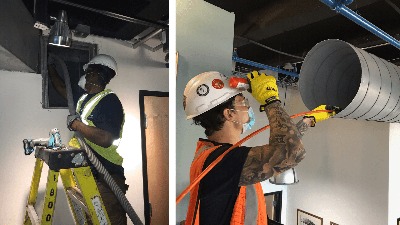 Every year a few weeks prior to a Workman's Compensation Insurance Renewal, a business receives their EMR rating that will be designated to them for the full upcoming insurance year. The EMR rating is designed to predict the odds of work-related injuries at a business during the year. The National Council on Compensation Insurance (NCCI) is responsible for calculating a business's EMR which is then provided to the Workman's Compensation Insurance Carriers.
The calculation is a compilation of total hours worked for each category of employee over the insurance term year. For example, a construction worker would be rated differently than an office worker. The total business payroll for hours worked for each job classification the company has are divided by 100 and then by the "class rate" for each job category that reflects the inherent risk in that job classification. This number is then compared to historical averages for injury in the industry that the business is in.
A 1.00 EMR is deemed to be average for each business category. For example, if the EMR for a business is 1.20 that means the risk associated with that business is 20% greater than the average for that industry to have an injury while on the job. If the EMR for the business is .80, it means that the risk associated with that business of having an injury on the job is 20% lower than average for the industry. Some facilities and contractors have a cut off for the risk that they are willing to assume. They will only hire a contractor up to a certain level EMR. Sometimes, further proof of a qualified safety program will be asked for if a business has a higher than average EMR.
Duct & Vent Cleaning of America, Inc has just been calculated at .88. An excellent rating for safety! We have also been a recipient of the National Air Duct Cleaners (NADCA) Annual Safety Award every year since 2001.
Every one of our Field Staff Employees has at minimum an OSHA 10 Certification in Construction Safety. If you have any additional questions about EMR or we can help you in any way, please feel free to contact us.
Share this:
---