Duct & Vent Cleaning of America Awarded Contract To Clean USNS Comfort in Boston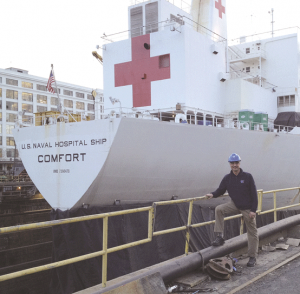 SPRINGFIELD, Mass. - The USNS Comfort is back in the water and mission ready thanks in part to Duct & Vent Cleaning of America Inc. (DVCA).
The 55-day project required DVCA personnel to clean 5.68 miles of the ship's ductwork to ensure that the Navy's top mobile medical treatment facility could be fully operational without risk of poor air quality to patients and Navy personnel, which could cause further health concerns.
"The scale and complexity of this project was vast but certainly not improbable for our top notch service team to complete," DVCA President Michael Vinick said. "We're honored that we were able to do our part to help the USNS Comfort continue its humanitarian and military support missions on behalf of our nation."
Vinick called this job a "springboard to a new level of our business."
"It's clear that our team can handle any job on any scale from U.S. military facilities to the residential and commercial duct cleaning services we provide throughout New England and the Mid-Atlantic States," he added.
Duct and Vent Cleaning of America, Inc. is headquartered in Springfield, Mass., and has satellite field offices in Connecticut, Rhode Island, and Maryland.
For more than 22 years, DVCA has boasted the health and economic benefits of indoor air quality. "People with health issues, especially those with asthma and allergies, can experience improved quality of life thanks to the work that DVCA performs. Our work also provides a financial benefit for homeowners and business needing to save funding, especially as fuel costs continue to rise," Vinick said.
Vinick cautioned against choosing just any duct cleaning company, noting that "the U.S. Environmental Protection Agency states: 'Do not assume that all air duct cleaning service providers are equally knowledgeable and responsible.' We were one of the earlier members of the National Air Duct Cleaners Association http://www.nadca.com/ (NADCA) since 1990 and are committed to its mission of "maintaining industry standards and certification."
DVCA has been honored for each year since 2001 by NADCA with the Outstanding Achievement Safety Award.
"Our commitment to quality and safety is exhibited not only to those serving on the USNS Comfort but also in every job we've completed prior to that, and every project we'll take on in the future. The proof is in the air that we breathe and that's certainly a mission to live by," Vinick said.
Share this:
---